Seclusion Data is a carnivalesque poetry book containing 36 original poems in three sections. It was published in 2010 by Third Eye Novelty Editions in Wellington, New Zealand. The book was designed by Michael Christoffel at Whirlwind, and printed at Astra Print by Christine Borra.
Sample poem
MARRIAGE AUTOPSY
The road from innocence to self-knowledge, symbolised by angels and insects in sombre, expressive colours flying behind the middle class vampire circus, plunges into the languid mayhem of a contemporary marriage.
Waxing legs for fast cash: her husband didn't even know. We never told him.
Marbled with cannibalism and graphic anxiety, the pathologies of intimacy depend on a strange, touching resonance.
While they ride the lonely streets, the protagonists of this bittersweet autopsy will be unrivalled in their ardour.

Merchandise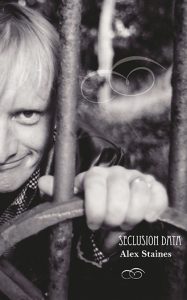 The book Seclusion Data is in print and is available for purchase.
Pay with your credit card securely via Stripe.
Price – New Zealand: NZ$20 + GST + Stripe fee (2.9% + 30c). Shipping in NZ is FREE for single-book purchases.
Price – Rest of the world: NZ$25 + Stripe fee (2.9% + 30c). This includes $5 shipping (sent as a letter, not a parcel).
Your book will be shipped when funds are cleared. Send us an email with your details, including delivery address and email to send Stripe invoice to for credit card payment.
Books purchased are signed and include a free download code for the poetry and music album.
Find out more about the book.