Publication history of The Slow Road to Gore
The second print edition of The Slow Road to Gore was published in New Zealand by Third Eye Novelty Editions in 2010. This edition, apart from being a re-design of the original design in 2003 by Andrew Aubry (which was excellent) included word and punctuation changes here and there, which I felt improved the work. The first edition from 2003 had a limited print run and would be as rare as hens' teeth now.
About the poems and performance
The poems in The Slow Road to Gore were written between about 1990 and 2000. I performed them live on many occasions around New Zealand, as a member of the group Poetrycorp, and as a solo performer, for example at the regular Lewd and Ludicrous late-night revues hosted by Bats Theatre in Wellington in the 1990s.
Review of The Slow Road to Gore
… unlike the 'Pure' campaign – which is unsatisfying for Kiwis because it promotes an absence – Staines' New Zealand is dynamic, gritty, abundant and culturally diverse."
~ Sam Gaskin, Salient
In printed form, Gore attracted a few admirers, including a thoughtful reviewer at Salient magazine. Read Sam Gaskin's full review.
Influences on the poetry
I'm drawn to poetry that has fire and ice in its veins – the tempestuous duende of Lorca, the languid stanzas of Machado, or Trakl's black glacier – as opposed to the neutered wordplays often produced by the more academic type of poet.
The Slow Road to Gore draws its effect from my preoccupation with stagecraft, adult entertainment, and strong emotions. Add in gossip, bad taste, punk attitude, melodrama, exhibitionism, dark fairy tales by the brothers Grimm, Poe, horror films such as Pan's Labyrinth and Evil Dead 2; and nonsense verse (I've long been a devotee of Edward Lear), then there you have it.
The "travelogue" tag refers to the poems being ordered geographically from the north of New Zealand (Te Kao), down to the bottom of the South Island. The poems frequently reference New Zealand place names
Sample poem
psych nurse
little florence nightingale
comes off the night shift
ignites a goyaesque cigarette
with a candleflane
whispers it out
she mouths a blue lozenge
from a vial in her purse
& enters the organza dawn
where animals
with spots and stripes
ramble the silhouetted ridges
probing
nuzzling
assaying with their muzzles
the weft of the air.
The Voice of Foxton
A video interpretation of the poem "The Voice of Foxton" ("an acid poetry postcard from small-town New Zealand", according to the press kit) from The Slow Road to Gore screened at film festivals around New Zealand, and also at the Antimatter Film Festival in Victoria, BC, Canada in 2002.
Find out more about the film, and view it on YouTube.
Merchandise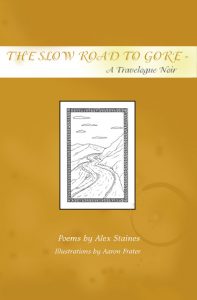 The book The Slow Road to Gore is in print and is available for purchase.
Pay with your credit card securely via Stripe.
Price – New Zealand: NZ$20 + GST + Stripe fee (2.9% + 30c). Shipping in NZ is FREE for single book purchases.
Price – Rest of the world: NZ$25 + Stripe fee (2.9% + 30c). This includes $5 shipping. Shipping cost is low because the book can be sent as an airmail letter rather than a package. This only applies to single-book purchases.
Prices do not include track & trace or insurance – there would be an extra cost if these are required.
Books shipped when funds cleared. Send us an email with your details, including delivery address and email to send Stripe invoice to for credit card payment.