I was enrolled me as a trainee at Saturday morning drama classes when I was 11, at Central Theatre in Remuera, Auckland.
This playhouse, with a reputation for being somewhat daring in its choice of productions, was presided over by Mary Amoore, an intelligent, savvy, and widely respected director. She was the first adult I had met who understood, and encouraged me.
My acting coach was a fellow by the name of Marcus Craig, a colourful individual who earned a living as a drag act ("Diamond Lil") at a nightclub in town, the Ace of Clubs.
I loved the experience at Central Theatre, made friends easily there, and subsequently won the drama prize at school. Further development of my dramatic talents was not encouraged by my parents, who wanted me to get a real job one day, preferably as a doctor or lawyer. However, receiving acting training and love of the stage contributed to my future exploits as a performance poet – a type of entertainer with words.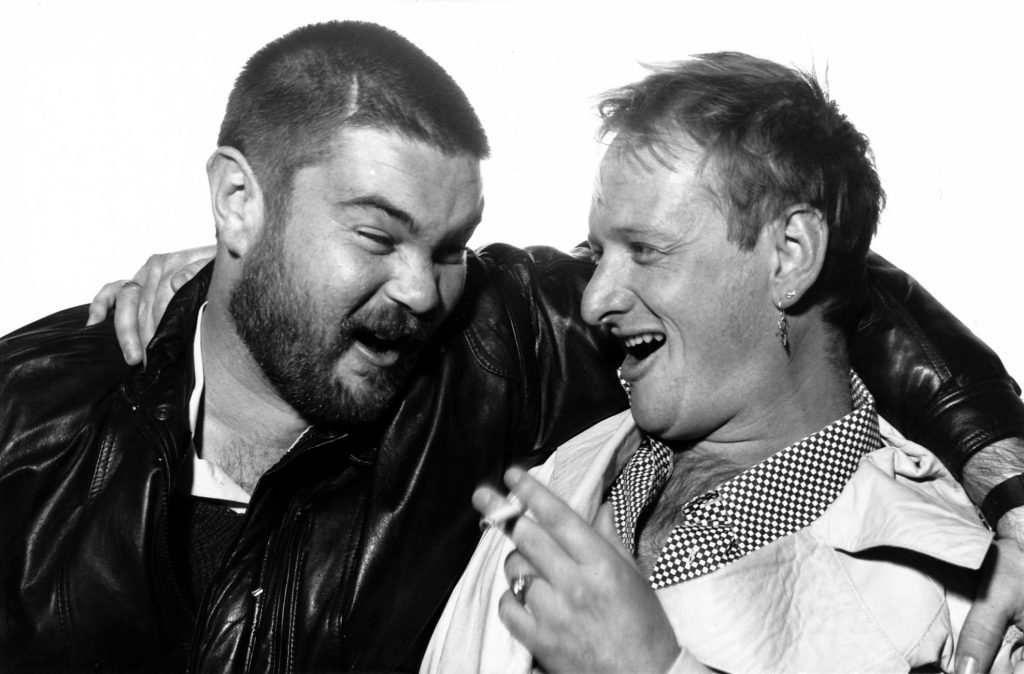 While I was studying anthropology at Auckland University in 1984, I stumbled across a poetry venue established by poet David Mitchell upstairs at the Globe Hotel in central Auckland. It was a turning point – here was a group of poets dedicated to live performance. The venue was invariably packed for the readings. It was a memorable time for me, and I made my live debut at the venue.
I went on to perform around Auckland over the next few years with poets and artists I met at the Globe, many of whom truly were living the art life. I became friendly with John Pule, Piet Nieuwland, Sandra Bell, Kim Blackburn, Micheal O'Leary, Albert Livingstone Refiti, Merlene Chambers, and David Eggleton. I met the artist Tony Fomison, and lived for a while at Poet's Palace, next to the Mercury Theatre in Swan Lane, off K' Rd in Auckland. I wrote and self-published my first poetry book in 1985, a diminutive volume titled 10 Cicadas.
The early to mid '80s was also an exciting time for live music in Auckland. Great punk and psychedelic pop bands from Auckland and Dunedin played regularly around town at venues like the Rumba Bar and the Windsor Castle. Paul Luker founded Industrial Tapes, and recorded many of the Auckland acts for posterity.
In 1985, after working as an archaeologist for a field season in the Bay of Plenty, I migrated south to Dunedin, lured by the call of alcohol and rock and roll. I kind of fell in love with Dunedin at first sight, and still have the same feeling for the place today. It's a good place to be an outsider. The mid-'80s marked the high point of the southern psychedelic pop/post-punk revolution, known as the "Dunedin Sound". Several nights of the week, outstanding musical talent was on display in the local pubs. My living quarters were in the well-known "Coronation Street flats" in Dundas Street. My girlfriend was the sad-eyed lady sitting on the edge of town.
While in Dunedin, apart from driving around in my 1964 Holden EH and getting up to no good, I had a regular poetry slot during Friday happy hour at the Royal Albert pub, with an audience of steel workers. I was sorted, for a couple of years anyway.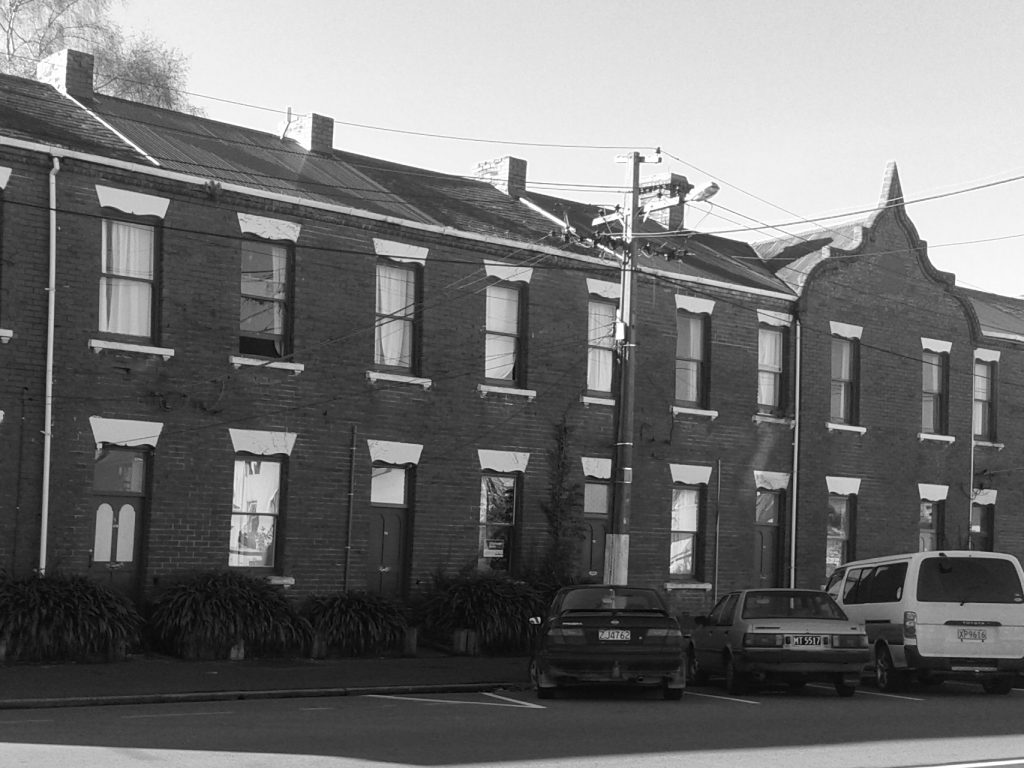 In 1988, during a period of drifting aimlessly around the North Island, I met Simon Williamson, Paul Dagarin, Andrew Kovacevich, and Mike Eager at Cafe 88 in Manners Street, Wellington. The performance poetry group Poetrycorp was born at this meeting. Nikolien Van Wijk and Fa'afetai Ta'ase also quickly joined the roster. Apirana Taylor featured in several gigs as well when he was available.
Over the next few years we worked hard, criss-crossing New Zealand on university orientation and schools tours, as well as performing at institutions, pubs, fringe festivals, and on the radio. Highlights included a riotous tour of North Island schools, an extremely unusual show at Porirua Psychiatric Hospital, as well as supporting Chris Knox, Sam Hunt, and Paul Ubana Jones. Poetrycorp's "attack-dog" style and rapid cycling through performers preceded poetry slams by many years.
"Vibrant, vital, perverted, funny, scary."
~ NEXUS (12/3/90)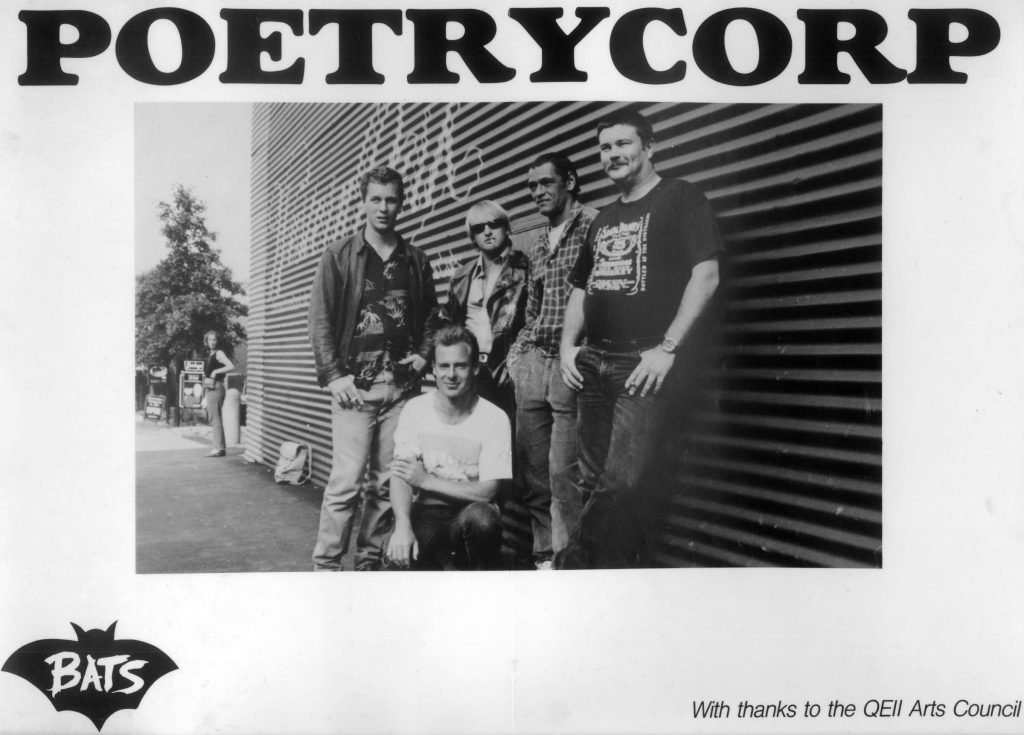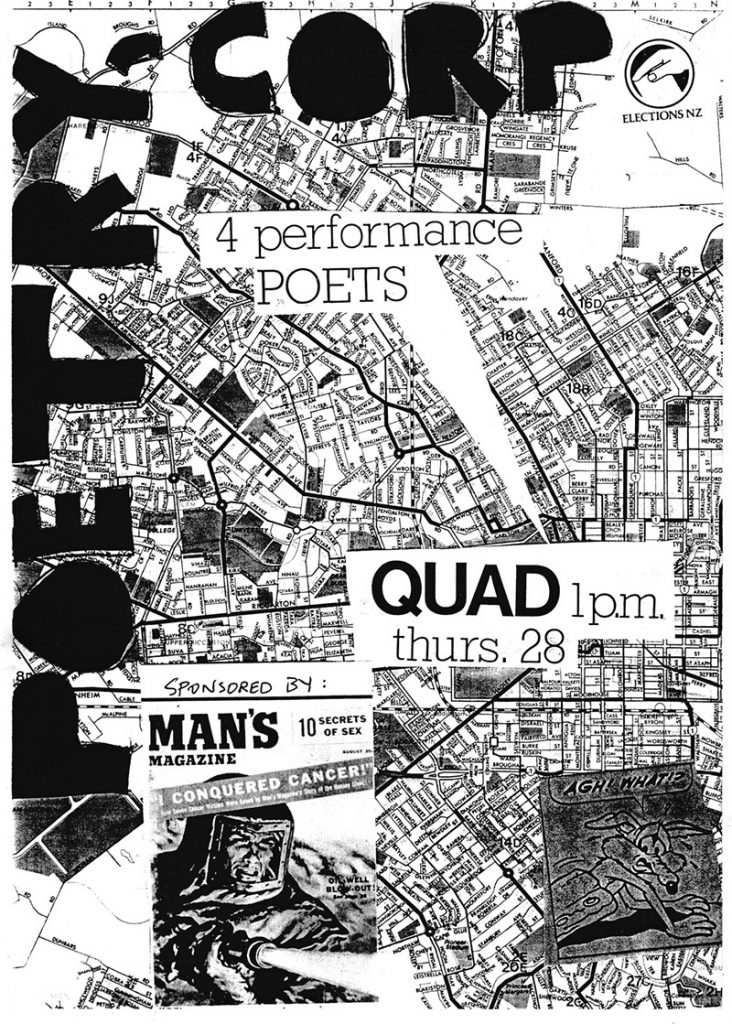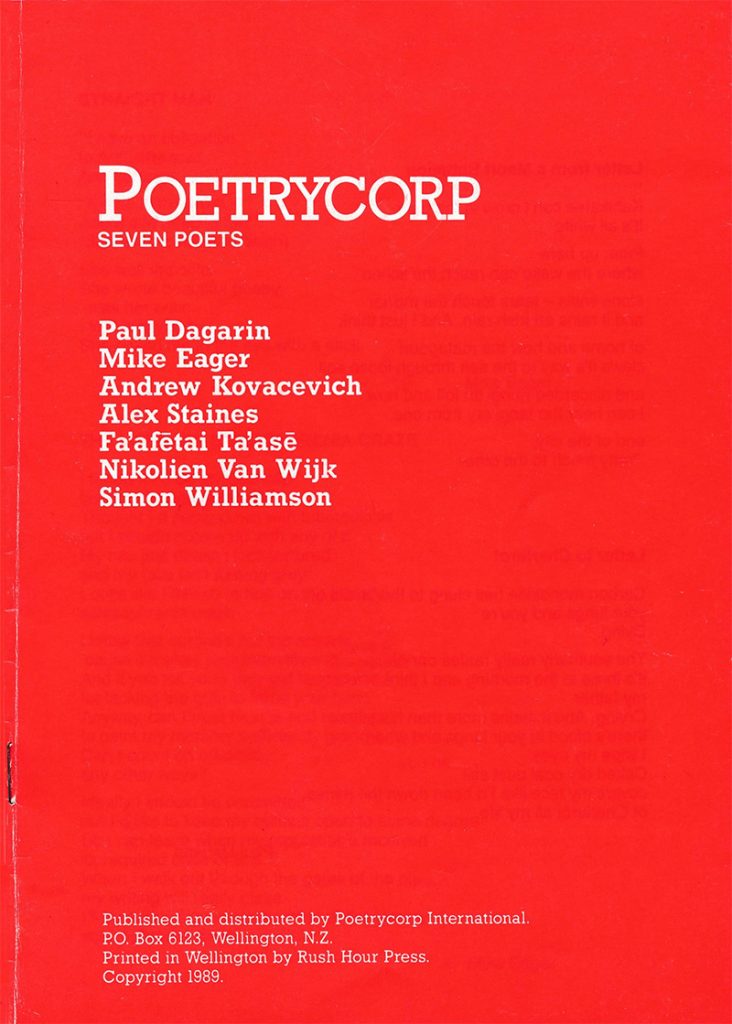 Warning was a tandem book of poems by Alex and fellow Poetrycorp member Mike Eager, published by Rush Hour Press in 1990. Reviewer Daniel Riordan, in the PSA Journal in 1991, wrote that the poetry "evokes strong, sometimes uncomfortable images. Yet, underlying the honest language on life's downside, on death and loveless sex, is a warm sense of humour that softens the figurative blow". The book is rare now, though 1000 copies were published. It was a good-looking volume, black and white, in gloss stock, and virtually hand-made in the days before digital publishing. The poems are illustrated with striking photographs and drawings by local Wellington artists.
"Aspires to and achieves some almost ecstatic heights of bad taste."
~ Tony Beyer, Evening Post, 3 February 1991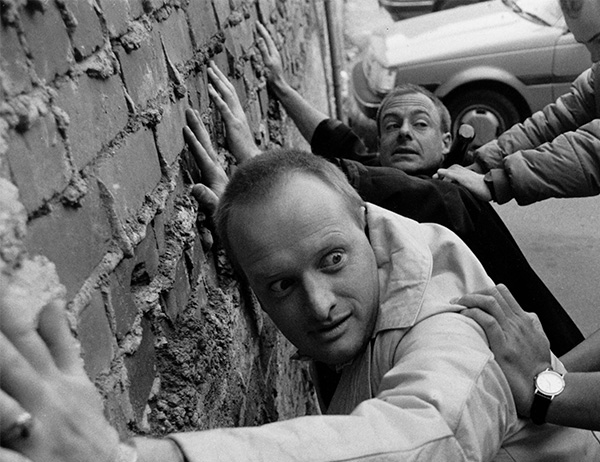 "Crazy portraits or collages of the seedier but definitely real side to Kiwi life."
~ Jo Mackay, Craccum, March 1991
Running out of steam – early to mid-'90s
Between 1991 and 1996, before ill health and personal problems brought a halt to live performance appearances, I participated in several national tours as well as numerous solo performances, or gigs with other performers, including Sam Hunt, Apirana Taylor, Andy McGee, and Andrew Kovacevich (aka AK). These included:
The Lewd and Ludicrous late-night variety shows at Bats Theatre in Wellington, with Danny Mulheron, Brian Sergent, and Nick Ward, among others.
Fun 'n Frets tour, supporting musicians Dave Murphy and Luke Hurley.
Bards Bodega, hosted by Graeme Tuckett.
Trekkers Bar Poets, hosted by David Douglas.
Serious Humour tour, with Andrew Kovacevich.
Bluebottles tour of the South Island (with Andy McGee from The Desert Road Band).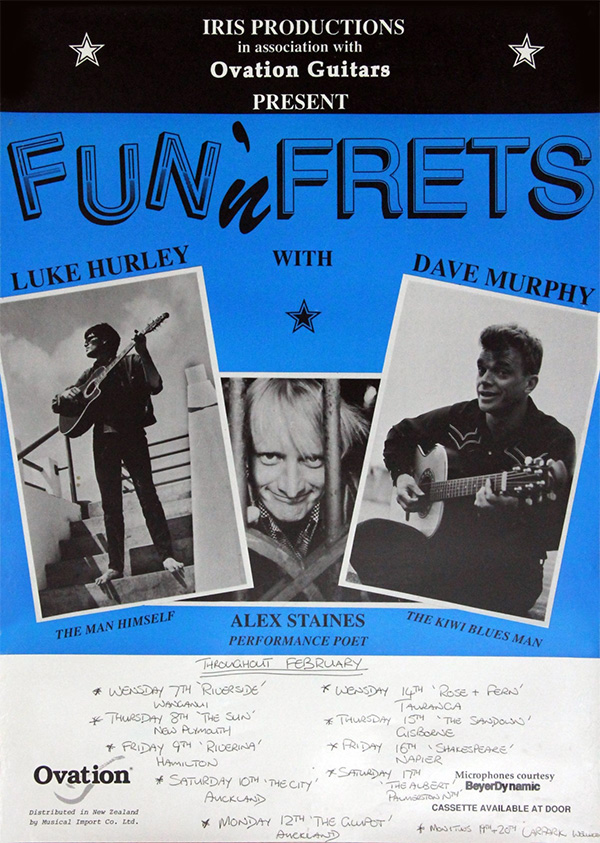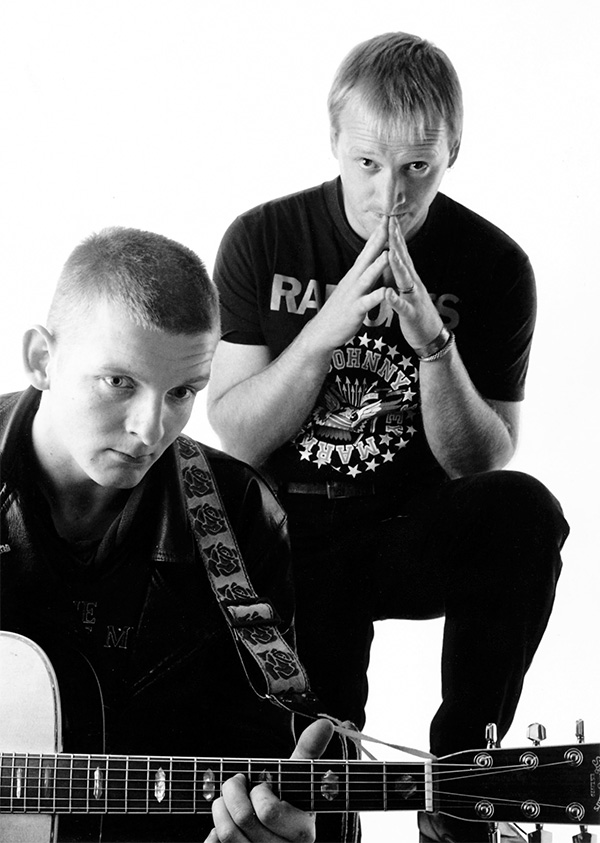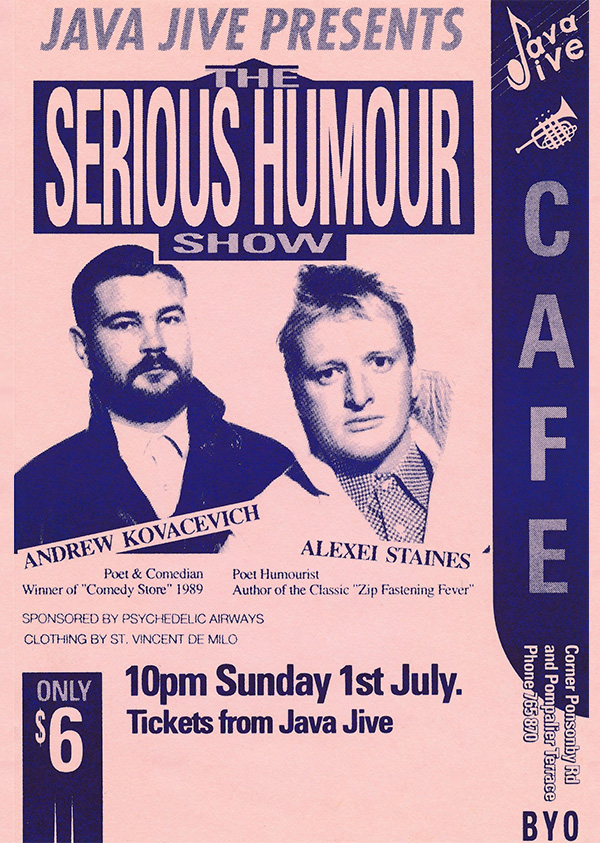 There was a long gap between live performances for me, while I struggled (successfully) to overcome chronic alcoholism and a raft of associated life issues. I continued writing, and in 2003, the punk-surrealist book The Slow Road to Gore – A Travelogue Noir was published.
A year earlier I wrote, produced and directed a video short – The Voice of Foxton, based on an old poem which was first published in Warning, then edited and republished in The Slow Road to Gore. The video screened at festivals around New Zealand, and was also selected for screening at an underground film festival in Victoria BC, Canada.
In 2004, I was invited to record a set of poems for the Aotearoa New Zealand Poetry Sound Archive.
2010 saw the publication of my funny dark poetry book, Seclusion Data, which marked a new direction in style and compositional method. Several live performances celebrated the release of the book. Appearing on stage for the first time in a decade, I was joined by gothic folk performer Adam James Ring, from the bands MuscleMan and Christboy. I performed with a backing track of music from the album version of the poetry.