Time of the Archons is a Symbolist poetry book written by Alex Staines and published in print by Third Eye Novelty Editions in 2021.
Alex refers to his work in this publication as "pure Symbolist poetry" of the type you might find published in a small Parisian journal in the 1890s. The allusive overall tone also has sombre, ambient colourings derived from Dark Romanticism, and the cut-up technique contributes surreal flavourings. It's like a gothic feast in verse!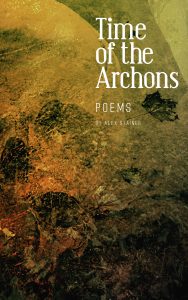 The contents of the book are in three sections of 12 poems each. The sections are titled "Anthropophyteia", "Flânerie", and "Duende". The at-times savage humour in Seclusion Data is largely absent from Archons, though there are whimsical flourishes.
Each section has a characteristic tone, similar to three movements in a symphony. The introductory section contains 12 lyric poems that are fairly raucous in nature, while the poems in the middle section descend in mood to a very low place, and the structure becomes uniform. The tone brightens in the final section, "Duende", and the poems adopt a note of triumph.
The poems all roughly follow an Alexandrine structure of 12-syllable lines; between 10 and 14 per line, and the total number of syllables in each poem is divisible by 12. This structure is a flow-over from the final section (titled "Alexandrines") in the previous book of poetry by Alex Staines, Seclusion Data (2010).
Modified modified cut-up
Apart from the syllabic constraints, the poems were composed using a variation of the modified cut-up technique devised to create the poems in Seclusion Data. Alex has named this technique "reassemblage".
In Archons, instead of using scissors to physically cut out pieces of text from source documents and gluing them to sheets of paper, the selections of randomly found text were typed directly into a Word document. This was done to save time, as the process of composing and recording the album version was already under way, and the poems needed to be completed fairly rapidly. Alex followed another rule while creating the poems, also adhered to in Seclusion Data – no text is to be cut up from fiction or poetry sources; only non-fiction material is selected.
Sample poems
VITAL ABOMINATION
As it spread rapidly around their necks, stories
and legends of emulation – a beautiful,
sombre vastation. Droll observers of shadowy
intellect intrude with their vital questions,
for reasons we are left to guess. The whole world will
perish. The play of late-evening sunlight, forbidden
pleasures like a sacred haven – what a threat is
gathering, prowling on the surface of unstable
judgment. Excited by the subterfuge,
the eloquent maestro glimpses many other
lives, casts a monochrome confusion of layered
exterminations. In its plunging, bell-shaped room,
the abomination is scanning the limits
of intensity and candour.
DUENDE 5
Hidden under straw, the trapped animal in their
posthumous indignation was purged of all that
could defile by contact the sacred elements.
People went about the streets in disguise, the fiction
of conspirators was received with devout
eagerness, the scarlet lips of the mourners signalled
the profanation. Secret theatre of the
matriarch's dilapidated grievances,
her benediction echoed through the derelict
chambers, the reliquaries of stairways and foyers.
Two beings pass by, one behind the other. They
watch the winged darkness float above the clouds, afraid.
~~

Merchandise
The book Time of the Archons is in print and is available for purchase, either directly from here (see below), or from Unity Books, Wellington [map link]. The book is not a cheaply produced print-on-demand publication; it has been printed by a professional book printer.
Pay with your credit card securely via Stripe.
Price – New Zealand: NZ$25 + GST + Stripe fee (2.9% + 30c). Shipping in NZ is FREE for single-book purchases.
Price – Rest of the world: NZ$30 + Stripe fee (2.9% + 30c). This includes $5 shipping. Shipping cost is low because the book can be sent as an airmail letter rather than a package. This only applies to single-book purchases.
Prices do not include track & trace or insurance – there would be an extra cost if these are required.
Books shipped when funds cleared. Send us an email with your details, including delivery address and email to send Stripe invoice to for credit card payment.
Books purchased are signed and include a free download code for the poetry and music album.